Bios
Whether you're interested in trust deed investments or you need the services of a private money lender, please contact one of our experts today.
Edward E.N. Brown, CEO
Edward holds a Masters degree in Taxation and a Bachelor's degree in Accounting, both from Golden Gate University.

He was a weekly lecturer of accounting and taxation at the University of Phoenix and has also taught at Dominican University.
He has been a guest lecturer at Golden Gate University, and at a number of banks, real estate companies and stock brokerage firms.
He has appeared on CNN's "Ask The Expert" and was a guest speaker on "Your Money."
Edward has written many articles which have been published in a variety of financial magazines, including The Practical Accountant; he has also been quoted in The Wall Street Journal.
Edward is a winner of a prestigious MBA Tax Award.
His professional accomplishments include providing expert witness testimony regarding investments and being appointed by the U.S. Department of Justice to serve as Chairman of a Shareholder Equity Committee protecting 29,000 shareholders of a $250 million REIT.
His professional licenses include: Series 7 Securities, Life and Disability Insurance, Tax Preparer, Real Estate Sales, and former Certified Fund Specialist.

edward@equitybancorp.com
(415) 451-6099, ext. 102

---

Marco Garbarino, CFO
Marco is a graduate of the University of California at Berkeley and earned an MBA from St. Mary's College.

Marco has been a licensed Real Estate Broker since 1989.
He has originated over $150 million in conventional and private money loans.
He has brokered over $200 million in real estate sales.
Marco has professionally managed over 2,000 commercial and residential units.
He has leased over 150,000 square feet of commercial and retail office space.
He also teaches economics at the Branson School in Ross, California as an adjunct professor.

marco@equitybancorp.com
(415) 451-6099, ext. 101

---

Dawn Fitzpatrick, Treasurer
Dawn earned her B.A. degree from San Francisco State University.

She received her Real Estate License in 1989 and first worked for a large North Bay builder.
She joined Garbarino & Associates in 1991 as property manager for several hundred units in Marin County, Sacramento and Reno.
She began incorporating real estate sales into her activities in 1995.
Dawn handled sales, marketing and market analysis for several sub-divisions.
She recently joined Equity Bancorp, managing project reviews, investor relations and marketing.
She has sold over $100 million during her career in real estate.

dawn@equitybancorp.com
(415) 451-6099, ext. 105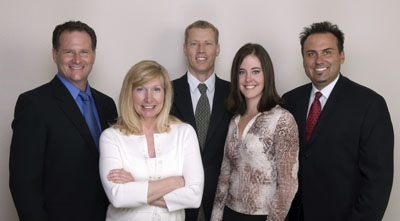 The EquityBancorp, Inc. team
(L to R): Edward, Dawn, Peter, Chrissy and Marco.